LARGE FORMAT.
GALLERY READY.
It's a natural response to falling in love with one of your images: "I want a print of this." A great print is a tangible embodiment of your vision. Why settle for an average print job? Entrust your prints to a pro who can perfect your image, giving it the individual attention and scrutiny it deserves.

it's both art and science
It's tempting to take a DIY approach to your digital printing, but it doesn't take long for even pro shooters to reach the limits of their printing skills, despite having the best digital printing equipment.

Doing your own printing means having updated software, the right profiles, clean nozzles, good quality paper, a color-managed workflow, a calibrated monitor, and more.

No matter how much paper you use up (and you will use up paper) your prints never look as good as you know they can. And the bigger the print, the more complicated (and expensive) it gets.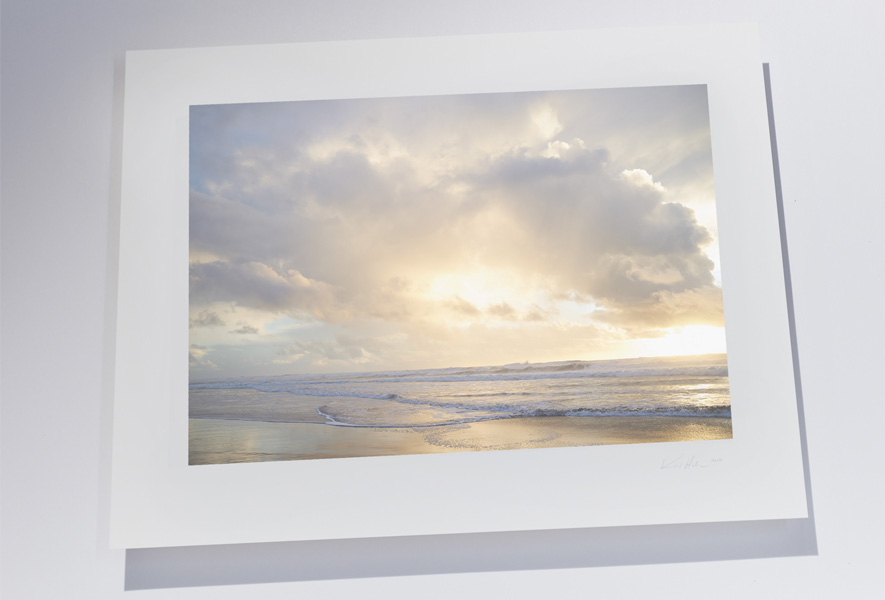 Rather than spend half a day trying to get your old neglected printer to work, just send me the file and in a day or so you'll have a beautiful print to hold in your hands.
I have all the tools. All the software. All the paper. All the experience.
There's no such thing as Printer's Remorse.
No one ever regrets having a print made. If anything, they wish they'd gone bigger.
how big can i go with a phone image?
Even today's smart phones can capture images with incredible depth and detail. But translating from the screen to a large format print is tricky if you want gallery-quality results. Using my extensive image prep tools and enhancement experience, going big has never been easier.
1.
You take the photo
and send it to me.
2.
I do my magic and
prep it for printing.
3.
I print and proof it.
Trust me. It'll be perfect.
4.
We can even frame it.
You do the hanging.
You need great paper to make a great print. You also need to know the strengths and limitations of each kind of paper. Because I keep a wide variety of papers in a  range of sizes at all times, I can match your image to the right paper that will make the best print.
SOFT COTTON RAG PAPER
Lets you see into the color
LUSCIOUS PLATINE
For that silver gelatin look
CANVAS
Gives the work a new dimension
ORGANIC LINEN
For a unique treatment
Love shooting film? Of course you do; there's nothing like it. But like it or not we live in a digital world, so make the most of it. Capture on film and let me do the scanning. Wouldn't you rather be shooting than watching a progress bar?
GALLERY QUALITY. READY TO HANG.
Meet my wife Rya (on the right). She knows a thing or two about picture framing, and installation as well.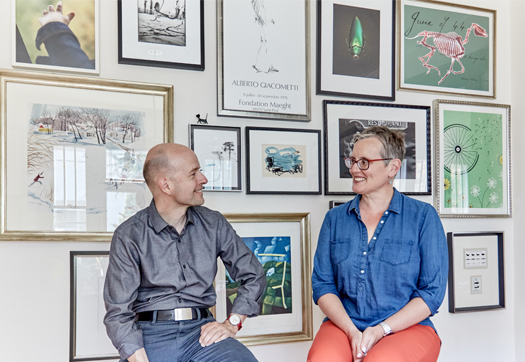 "I have long dreamed of being a gallery photographer. Research made me realize the real greats had a team behind them. The team has skills a photographer might not have. Karl Herber and Rya Priede are as essential to my work as my cameras. They have become the team for my gallery work. They don't just get the work done and ease my workload. They make me and my work better. Thanks to you both for making me look so good.
Pat Carney
President, The Carney Group
"We have worked with Karl as our printer for 5 years. Prior to that we worked with him in the advertising photography business .
He has been extremely instrumental In helping us get our business going in a sustainable way. Karl is very professional and accommodating. I highly recommend his printing service!"
Stacy Fortier & Paul Nelson
Wild Birds Flying
JUST SOME OF THE PROS WHO TRUST ME WITH THEIR WORK